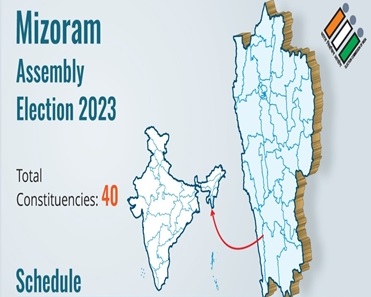 Inthlang turin Mizoram a inpeih
07 Nov 2023: General Election to the Mizoram Legislative Assembly, 2023 atana inpuahchahna chuan a vawrtawp a thleng ta a, District hrang hrang 11 huamchhunga Assembly Constituency 40-a Polling Station 1,276 a inthlan buaipuitu tur, Polling party-te chuan an duty-na tur hmun theuh an thleng fel tawh a, vawiin November ni 7, 2023 zing dar 7:00 atanga tlai dar 4:00 inkara vote thlak turin Mizoram chu a inpeih tawh a ni.
Electoral Roll thar berin a tarlan danin Mizoramah vote nei mi 8,57,063 an awm a; heng zinga 4,13,062 hi mipa niin, hmeichhia 4,39,026 an awm a, Service voter 4,975 an awm bawk.
Tun dinmunah inthlan duty tur leh EVM/VVPAT khawl indaihlonaa awm lova, venhimna lam thawk turin State Police personnel 4,518 bakah Central Armed Police Forces (CAPF) Company 50 rawih an ni a. Polling Station 765 ah Polling booth-a chetvelnate webcasting kaltlanga vil a ni dawn bawk.
Kumin inthlanpui atan hian Contesting Candidate 174 an awm a, heng zinga 16 te hi hmeichhia an ni. General Election to Mizoram Legislative Assembly, 2023 atan hian Election Commission of India chuan General Observer 21, Expenditure Observers 14 leh Police Observer 111 te a ruat a ni.
Vote thlak nia vote tlak dante hi darkar 2 dan zelah Pollstar App kaltlanga report zung zung tura ruahman a ni a, inbiakpawh harsatna hmunah erawh MPRO kaltlanga chanchin inhrilhhriat tum a ni.
Vote thlak ni poll day zing dar 7:00 atanga tlai dar 4:00 thlenga duty turin Pawan Hans Chopper ruahman a ni bawk.
Vawiin November ni 7, 2023 (Thawhlehni) zing dar 7:00 atanga tlai dar 4:00 thleng hian vote a thlak theih dawn a, he ni hi Sawrkar chuan Public Holiday-ah a puan mai bakah Sawrkar hnathawk lote tan pawh hlawh kiam chuang lova chawlh ni 'Paid Holiday' atan a puang bawk.
Dry day-a puan a nih avangin zu zawrh leh in phal a ni lo a ni.
Postal ballot hmanga vote tlak tawh dan nimin 06.11.2023 tlai dar 5:00 thlenga hriat theih chin chu hetiang hi a ni:-
Kum 80 chin chunglam leh Vohbikte pual 'Home voting' – 2,133, Postal ballot (Polling Personnel etc) – 12,752. Total – 14,885.
Election Department chuan inthlanna huapzo, muanawm, felfai, dik leh langtlang, India ram pum tana entawntlak siampuiah mipuite a sawm a. Vote nei tawh phawt chu khua leh tui nihna anga mawhphurhnate hlenchhuaka vote thlak theuh turin a chah a. Kum hmasa lam zawnga vote tlate khuma India rama vote tlak thatna ber State kan nih theih nan thahnemngai taka tanrual puiah mipuite a sawm nawn leh a ni.