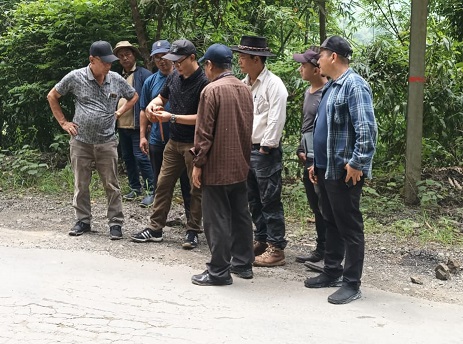 Aizawl to Lunglei via Thenzawl (ATL) Road hi a chhah zawng tur aia pana lo siam anih avangin a tlo theilo ni-a sawi a ni
Lunglei; 01 September 2023: MJA Lunglei member, PWD Road Division thawktute leh Contractor-te'n nimin khan Aizawl to Lunglei via Thenzawl (ATL), World Bank Road, Lunglei PWD Division-in a chan chin kawng dinhmun an enho.
Aizawl – Lunglei, World Bank Road hi kum 2010 khan World Bank-in a siam zawh hnuah kum 2019 atanga 2022 thleng khan Lunglei PWD Division chan chin, Lunglei atanga KM 64 chu Bhavya Construction Company chuan Resurfacing hna an thawk a. Hemi hnua kawng chhe leh thin chu Bhavya Company-te chuan a tira kawng siam hna thawktu World Bank-ten a hnuai lam an siamthat tawk loh vang a ni, an ti a. A chung lama kawng chhe leh thin chu an siam zui zel tur a nih loh thu leh PW-a Security Deposit Rs Nuai 193 an dah pawh lakchhuah tumin an dil mek.
Hetihlai hian PWD Road Division Lunglei chuan Bhavya Company-te hian kawng repair hna an thawh duh tak lohvah chuan an Security Deposit Rs Nuai 193 hmangin an division huamchhung ATL Road repair hna chu an thawk tih an sawi ve thung. Hetianga Bhavya Security Deposit sum an lo hman sak avang hian Bhavya Company hi Court lamah an zualko dawn leh dawn loh erawh an hriat loh thu media-te zawhna chhangin an sawi.
Nimina MJA, PWD leh Contractor-ten an en ATL, World Bank Road, Serkawn bul atanga km 17 thleng chu PWD lamin kawng repair hna thawkin, a bak Kanghmun South khaw dâi thleng km 43 chu Contractor pahnih-te'n repair hna an thawk mek a ni.
Nimina MJA-te'n PWD Lunglei Division huam chin ATL Road an enah hian lirthei chitin tana tlan hrehawm lutuk kawng chhia a awm loh laiin kawng khuar neuh neuh hnawh ngai hmun tam takah a awm. Heng kawng khuar hnawh ngaite hi repair hna thawktu contractor-te chuan a hmunah awmchilhin hna an thawk mek. A concern department nen agreement an siamnaa tel lo, ruahsur nasa avanga leimin pawh contractor-te hian thianfai zelin, leimin an thenfai man hi agreement-a a awm loh avangin PWD lamin a hranpa-in sum pek dan tur an la ngaihtuah dawn a ni. Tuna kawng siamthat hna thawk mektu contractor pahnihte hian anmahni sum sêngin hna hi an thawk kal mek a, an hnathawhna sum hi SASCI sum, kum 2023-2024 atanga pek turin agreement an ziak niin an sawi.
PWD Lunglei Road Division hotute chuan ATL Road-a lirthei tlan dan tlangpui Traffic Counting nikum October thla khan an neih thu sawiin, ATL Road chu lirthei chi hrang hrang sang chuang bakah lirthei lian quintal 300 aia rit phur 400 chuangin nitin an zawh niin an sawi. Hetiang a nih chuan leihnuai atanga kawng chhah zawng hi 480 mm ni tur a nih laiin World Bank lamin 380 mm chauhvin an lo siam a, hetianga a hnuailam a ngheh tawk loh avang hian a chunglam siamthat ni thin mahse kawng chhia hi a awm leh thin niin an sawi.
Nimina MJA-te'n helai kawng an ennaah hian Lunglei PWD Road Division Sr E.E Er SR.Lalramthanga leh thawktu dangte bakah kawng repair hna thawktu contractor-te'n an kaihruai a ni.