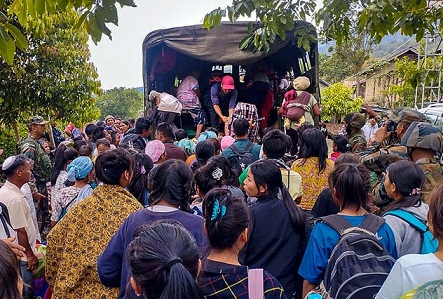 Rs Vaibelchhe 10 dil pek a la ni lo
17 Nov 2023: Manipur atanga sahimna zawnga Mizorama awm mekte tanpuina atana Mizoram sorkarin sorkar laipui atanga tanpuina Rs vaibelchhe 10 a dil chu tun thlengin pek a la ni lo.
Home department thuneitute hnen atanga thudawn danin sorkar laipui, Ministry of Home Affairs hnena Manipur Zofa, an state chhunga chi leh chi inkara tharum thawhna nasa tak avanga Mizorama sahimna zawnga rawn tlan lutte tanpuina tur sum chu thla 6 ral hnu-ah pawh pek a la ni lova. Sorkar laipui hi a la ngawi hmiah mai niin an sawi. Manipur atanga raltlante tanpuina atan hian May ni 16 khan Chief Minister Pu Zoramthanga chuan sorkar laipui hnenah Rs vaibelchhe 5 a dil a, a ni tela Mizorama lo lut an pun tak zel avangin May ni 23 khan Rs vaibelchhe 10 a dil leh a. Rei tak sorkar laipui a ngawih hnu-ah, September thla chawhnu lam khan Ministry of Home Affairs hian an buhfai leh eitur dang bakah damdawi leh mamawh dang chi hrang hrang senso zat chhut chhuak a, thehlut turin a rawn ti a. Home dept chuan Manipur raltlante'n thla 6 chhunga an mamawh kimchang chhut chhuakin September ni 21 khan a thehlut a. Tun thlengin engmah rawn pekchhuah a la awm ta chuang lo a ni.
Home department thuneitute'n an sawi danin Manipur atanga raltlan awm mek hi mi 12,000 thelh an ni a. An mamawhna a nasat em avangin Mizoram sorkar chuan anmahni enkawlna atan hian Rs vaibelchhe 5 a pe chhuak tawh a. Executive Committee on Internally Displaced Persons of Manipur in Mizoram chuan sorkar hnathawk hrang hrang hnenah vehbur khawnin cheng nuai 81 chuang an khawnkhawm chu hemi atan hian hman a ni bawk a ni. [AIR Aizawl]