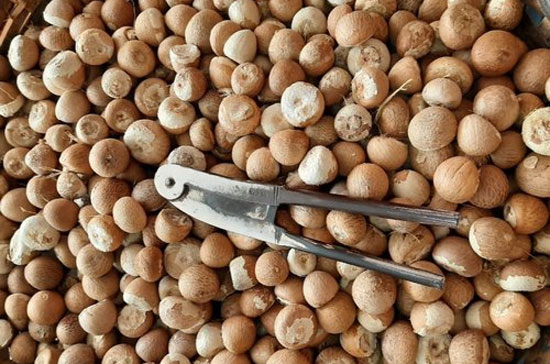 KUHVA  LEH  DRUGS – C.Lalchhuana
Kuhva (Arecanut) hi Bengal, Bangladesh, North Eastern States chhunga chengte hian kan ei nasa zual niin a lang. Khawvel hmun hrang hrangah pawh an ei ve bawk a, khawvel mihring 600 million vel hi kuhva ei kan ni. Khawvel mihring 10% aia tam mahin scented supari, gutkha, pan parag leh kuhva hring sawngbawl chi hrang hrang kan ei a ni. Kum 2,000 kalta vel atang khan palm tree tualto chikhat kuhva hi Malayasia, Thailand vel atanga lo zichhuak chu ching darhin ceremonial function hrang hrang leh serh-leh-sang atan an hmang thin. Tunah erawh chuan sumdawnna lianpuiah a chang ta.
India chu kuhva tharchhuak tam ber niin, Karnataka state chu a tharchhuak tam ber an ni; Mizoram erawh chu kuhva tharchhuah tam lamah parukna kan ni. India ramah kuhva sawngbawl leh ei kan tam avangin kum khata a mamawh a tharchhuak pha lo, chuvangin ramdang atangin a chawlut teuh teuh thin a ni. Meghalaya state hi kuhva ei nasa an ni; sahdah nen an ei nasat avangin kâ, lei, hrawk cancer tam berna state a nih angin 'Meghalaya is cancer capital of India' tia vuah a ni. Hetiang ang deuh hian Mizoram ah HIV/AIDS a hluar nasat ém avangin 'Mizoram is AIDS capital of India' tih mek kan ni ve thung.
Kuhva-ah hian cancer thlen theitu alkaloid arecoline a pai avangin 'arecoline alkaloid is a cancer causing agent' tih a ni.  IARC (International Agency for Research on Cancer) chuan 'Arecanut is group one human carcinogen' tih chu an hmuhchhuah dan a ni.  Kuhva chuan cancer a siam a, meizial (tobacco) leh alcohol nen kan tihpawlh/eipawlh chuan kâchhûng (oral) cancer bakah chawkawng, pumpui cancer a siam tel bawk a ni.  Kuhva kan eiin kan lem tel thin; kuhva nâwi vel kha ril leh tai velah a beh nghet bakah hlet a chhuah chuan rilpui nâ, tai nâ (chronic pile) a siam bakah cancer hial a thlen thin.
Kuhva, gutkha, pan masala, scented pan kan la eizui zel dawn em? In ngaihtuah harh a va hun ta em !!!
Kuhva ei nasa chuan nitin pack 4 [Rs 50 per pack] ei te pawh an awm. Nikhatah Rs 200 man a ei chuan thlakhatah Rs 6,000 man a ei tihna a ni a; kum khatah chuan Rs 72,000 man a eiral tihna a ni. Kum 30 chhung ei ta se Rs 21,60,000 man kuhva a eiral tihna a ni ang. Kan kuhva ei ai pawisa hi Recurring Fixed Deposit-ah dah se chuan kum 30 chhung chuan a lêt dawn [Rs 40,00,000 vel] chu a tling ngei ang. Mizoram-ah pawh kuhva kan ei nasat bakah cigarette zuk nena chawlhpawlh zingah chawkawng, pumpui cancer vei kan tam phah nasa.
Mizoram hmingchhiatna lian ber erawh chu HIV/AIDS vei percentage-a lakin kan tam lâwt lak, India ram state hrang hrang zingah;  chuvangin, 'Mizoram is HIV/AIDS capital of India' tih mék kan ni hi thil zahthlak tak a ni.  HIV/AIDS hi Drug Addiction nen a inkaihhnawih tlat a.  Mizoram chhunga Research neihnaah chuan Drug inchiuna avangin 32% HIV/AIDS inkaichhawng ang kan ni, Unsafe Sex atangin 65% HIV/AIDS inkai-chhawng kan ni; drugs injection ho hi Drug Addict kan tih te an ni tlangpui, heng Drug Addict te hian Unsafe Sex hmang mai mai an tam hlé-a ngaih a ni.  Chuti a nih chuan Drug Addict atangin HIV/AIDS inkai-chhawng kan tam hle bawk ang. Tunah hian Drugs hluarna state 272 India ram chhungah a awm mek, chumi zingah chuan Lunglei District pawh hi a tel ve a ni. 
Engtinnge Drugs hi kan do tlàn zel dawn le.  Family (Inchhungkhur) atangin kan do tlàn hmasak ber a ngai, zirna-in atangin drugs hlauhawmzia kan inhrilh a ngai, Biakin atangin kan member-te theuh leh Kohhran-chhungkua te drugs laka fihlim turin kan inzirtir a ngai tawh a ni.  Lunglei District hi Drugs leh HIV/AIDS avanga a tlûk-chhiat kan phal dawn em ni?   Chhungkaw-tin, Kohhran-tin, NGO-tin thochhuak ilang;  DRUGS, HIV/AIDS tirem tur hian tangtlângin i penchhuak teh ang u.